Our local Falls Lake community is actively enjoying the sweltering summer months in the Triangle by spending time on the water! There are plenty of things to do, such as fishing, swimming, or relaxing on a nice pontoon boat. Our resident thrill-seekers are also zooming around on the awesome jet skis we have available for rent at Motor Boatin'!
So many of our Raleigh customers choose to rent from us instead of buying a jet ski. There are several advantages to renting a jet ski, whether for a couple of hours or a whole weekend, and many Triangle residents prefer to rent them as needed.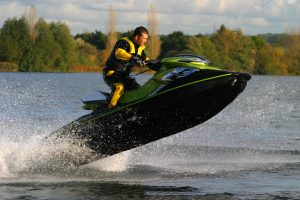 3 reasons our customers choose to rent a jet ski instead of buying one are:
Buying a jet ski may seem like a cost-efficient decision, but considering they can range from $5,000-$18,000 they're a rather expensive purchase. Not necessarily the best investment especially if the jet ski is only used sparingly. Renting a jet ski comes with the benefit of affordable prices based on the duration of the rental period. Whether it's for a few hours or an entire weekend, renting is an affordable option for those who are unable to purchase a new or used one.
No Upkeep. Renting a jet ski is a great option for people who don't have the space to store the watercraft during off-seasons. It's also beneficial for those who don't have the desire to maintain the general upkeep of the watercraft, including cleaning, gassing, ensuring safety protocols, etc. Simply rent the jet ski and return it when done with no headaches!
Time to Practice. Buying a jet ski is a big investment for people who may not be experienced with the activity. Luckily, when renting a jet ski users can get quick guides and tutorials, play around and get comfortable, and if it's not a great fit there's no financial commitment to a jet ski that will ultimately go unused.
Whether you're a watercraft expert or a complete beginner, the best way to get out on the water is by renting a jet ski from Motor Boatin'! Contact us today and let us equip you to enjoy all that Falls Lake has to offer this summer!