26 YEARS OLD TO RENT AND OPERATE
NO TOWABLES WITH SKIS OR JET BOATS-NOT EVEN YOUR OWN
Motor-Boatin LLC is the best place to rent Yamaha Waverunners in Central North Carolina. Riding a Waverunner is a great way to view nature or tear up the water with your friends. We currently stock Yamaha Waverunner VX Deluxes that sits 3 people.
We have chosen the safest, most reliable skis on the market – Yahama's Waverunner VX Deluxe, in an effort to protect not only our patrons, but also the general public. These machines will provide for a fun and exciting experience, in an economical and environmentally friendly package.
Feel the wind in your hair speeding along serene water on a Waverunner! Motor-Boatin LLC offers quality Waverunner rentals so you can get out on the water with a friend as often as you like – without the expense and stress of owning and maintaining a one. Conveniently located at Falls Lake. An exciting day on the water is much closer than you might think. Reserve a Waverunner and prepare for a day of fun.
Rental Insurance is $50/day. Without it you are 100% UNINSURED during rental. $500 deductible. If there is damage during rental, renter is responsible for up to $1200.
If you rent more than 1 ski at one time, insurance is required on each.
Arrive 30 minutes prior to your rental to watch the safety video, do a checklist and get the safety briefing.
Bring ID. If you are not 26 and on the rental agreement, you legally cannot operate the jet skis.
A refundable security deposit of $500 is required. If there is damage during rental, up to $1200 is required to cover deductible.
Gas is included in your 1 or 2 hour rental.
Late arrivals will shorten your rental time and late returns will incur fees.
Equipment is not to be left unattended. Even if you come in early, do not leave the equipment unattended. Please wait with your equipment.
Rental fee and taxes are paid at the time of reservation and security deposit is placed on the card of file Friday before rental date.
All Skis are Yamaha Waverunners. All are 3 seaters. None have brakes.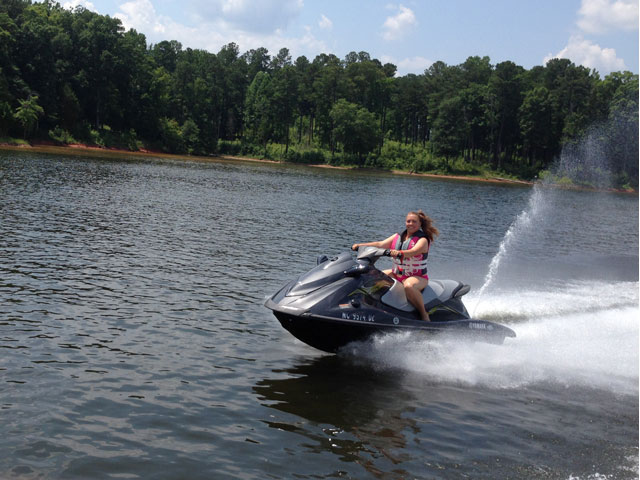 Prior to the Ski leaving the shore, we provide all passengers with a operation and safety lesson – so even if this is your first time operating or being on a boat or Waverunner, you will feel confident and be safe on the water.