One of the greatest American pastimes is camping. Reconnecting with nature, unplugging from constant screen time, and enjoying the simple pleasures that life has to offer are perfect ways to unwind and rejuvenate.
Our team at Motor Boatin knows that many Triangle residents love spending time outdoors, especially in the beautiful parks of the area, such as Falls Lake. As Falls Lake's boat rental company, we see that many Raleigh and Durham residents go camping at Falls Lake in the Fall because the weather cools down.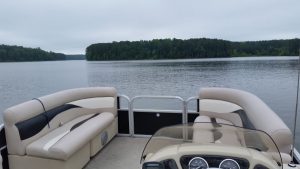 5 great activities available to all Falls Lake campers are:
Hiking or Biking. Falls Lake has numerous trails weaving through the wooded areas and around the water. Located in the Beaverdam area, there are two 6.5 mile trails for biking -one for easy/intermediate riders, and one for the more advanced. Hiking trails usually connect through recreational areas and offer camping grounds for backpackers.
Boat Rental. This is where we can help make the most of time on the lake! There are plenty of boat-launching ramps in various parts of the lake. We can also offer jet skis in addition to our pontoon boats!
Picnicking. All recreational areas on the lake offer picnic locations complete with outdoor grills and tables. Some areas like Beaverdam and Sandling Beach offer picnic shelters for a reservation fee, perfect for family gatherings!
Swimming. Sandling Beach, Rolling View, and Beaverdamn areas offer sandy beaches for anyone passing through, with restrooms and changing areas nearby. The Holly Point location has swimming areas for campers only.
Fishing. The anglers of the Triangle will be pleased to cast a line and catch a variety of fish including bass, crappie, and catfish. Keep in mind that we have fishing boat rental options to accommodate a fishing trip on Falls Lake.
The options are endless for the outdoor lovers of the Triangle looking to spend some quality time with friends and family at Falls Lake. Give us a call or stop by and see us at Motor Boatin to see our boat rental options and receive helpful tips to enjoy your time to the fullest!