When it comes to choosing the right boat, there are many things to consider: what is its purpose, who will be spending time on it, and how much work are you willing to put in?
Our Falls Lake boat rental team at Motor Boatin' know that many of these questions lead to one answer: rent a pontoon boat!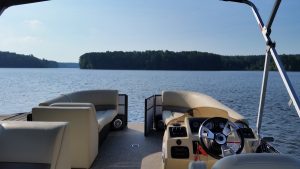 3 reasons why a pontoon boat is great for a day on Falls Lake is:
Easier Use and Maintenance. Due to the fact that many pontoons are made of aluminum, they dent easier than they tear. Getting a hole in the hull is less likely to happen on a pontoon than another type of boat. They also sit high on the water and on the trailer – this means that damaging the boat is harder.
Good for fishing and skis. Don't be fooled – a pontoon can be used for fishing and skiing. For skiing, invite whoever you want – chances are they will be able to fit on the boat. As for fishing, the boat is stable, meaning fish won't be scared off. Also, the location of where you can fish on the boat is versatile! Choose to stay in one spot on the boat or move around.
Comfort! The large area and ample amount of seating on pontoon boats make it easy for people to be comfortable, while still having storage space for any items that you wish to keep handy. Pontoon boats are stable, making for a smaller risk of unexpected jolts during the ride.
Renting a pontoon boat is definitely easier and more cost effective than owning a pontoon boat. To select a pontoon boat and book a weekend on Falls Lake, reach out to Motor Boatin'  today!