It's been a busy summer at Motor Boatin' and we've decided to buy a new boat! This boat can completely change the game on the lake. A new boat can create a lot of new things to do at the lake. This boat can pull tubes, fish from, go fast, and seat four people. This new boat is called the MAXUM.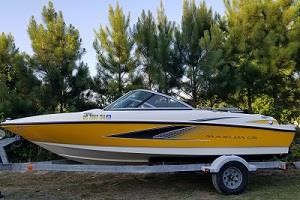 With the MAXUM you can do a lot. There are also a few features on this new boat that are different from the other boats.
MAXUM 1800MX
 4 seats
 135 Horsepower
 885lbs Max Weight
 Bimini Top
 18 ft Length
What does this mean? Well, this boat has almost double the power as a sweet water pontoon. This boat can also reach speeds up to 45mph. Renting a boat like this would allow a great time for a family. Four seats allow the perfect amount for a family trip to the beach. Not too little space but just enough. This boat is great for tubing, fishing, and many other things can be done on this awesome boat!
If you want to book this boat or another one of our boats now, click here.