Boating season is here! We're so excited to get back on the water (or at least get back on the water without freezing), and the Raleigh area is an awesome place to do that. There are so many lakes in Wake County and surrounding areas to enjoy that it can be overwhelming to figure out where to go.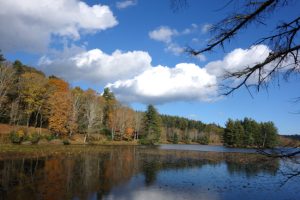 Here are a few of our favorites:
Falls Lake: Falls Lake is our 'home' lake, but that's not why it tops our list. There's something very special about Falls Lake. Even though it's just outside the main metro areas, it feels like you're a world away.
Kerr Lake: If you're willing to head out just a little further, Kerr Lake is a popular choice. It's between the North Carolina and Virginia borders. It's popular as a retreat, with lots of vacation homes available, but there are also day-trip friendly entry points.
Jordan Lake: Over in the western part of the Raleigh area is Jordan Lake. It's really long, so it provides lots of room to play. With many entry points and beaches, there are tons of areas to explore.
Harris Lake: Just south of Jordan Lake, you'll find Harris Lake. It's another boating-friendly lake, but it's kind of a hidden gem and quieter than the other lakes on the list. It's a cozy lake, smaller than the others, with lots of 'fingers' and coves to explore.
Although we operate mainly out of Falls Lake, you can always tow one of our boats to your preferred lake. Depending on availability, we may be able to deliver your boat for a fee, if you're not able to tow on your own. Contact Motor Boatin when you're ready to get out on the water.