We're in the swing of summertime and as the weather is getting hotter, people are looking for quick and easy ways to cool off. Whether you are going to Falls Lake, Kerr Lake, Jordan Lake, or Harris Lakes renting a jet ski could be just the right way to go in an attempt to beat the heat! We have some suggestions for you on when the best time to rent a Jet Ski to take out onto the water is.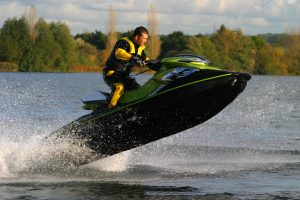 3 of the best occasions to rent a jet ski in Raleigh are:
Your family summer camping trip. We all love our families but sometimes after staying in a tight, confined space for a few days like you need to with camping, tempers can flare a little bit. If your mother-in-law keeps yelling at you, you can send her for a nice cool down by putting her on the Jet Ski and letting her go. It's hard to nag someone from the open waters.
Before school starts up again. Give summer the one last big hoorah it deserves and send it out with a bang by hitting the lake on the weekend before school starts. Kids and their parents can go out on the lake to make memories and have fun all while getting a tan. This is a great way to have fun with your kids before the drag of school starts and steals all of their time away.
The week of Spring Break. The weather is starting to get warmer and people are looking to have some fun after being stuck inside due to the cold weather for months. The perfect way to break your case of the winter blues is by grabbing a few of your friends and hitting the lakes with a Jet Ski!
Jets Skis are a fun and easy way to make the most out of your time on the water. If you want to rent a Jet Ski in the Raleigh Durham area our team at Motor Boatin' can help you out and make sure you enjoy your time on the water.