Nothing is better than enjoying the beautiful waters of Falls Lake. There are many fun-filled water activities to do at the lake, one being jet-skiing. Jet skiing is a fun and adventurous way to amplify your Falls Lake experience.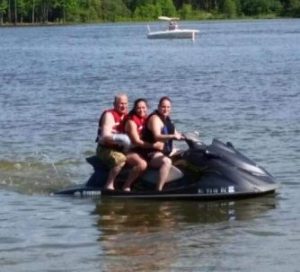 3 reasons Fall is a great time to rent a jet ski in Raleigh at Falls Lake is:
Fun: Nothing delivers accelerated excitement like riding a jet ski.  A jet ski pumps up the adrenaline and allows riders to explore the lake at high speeds. But, even better, you don't have the hassle of maintaining a personal jet ski. Our jet skis at Motor Boatin are in pristine condition!
Cost: Renting a jet ski is a cost-friendly, fun group activity with family or friends. Renting a jet-ski is an inexpensive thrill ride with customizable rates. Our rates allow renters to decide how long they want to be out on Falls Lake – whether a few hours or all day.
Experience: Jet skiing is something exciting and new to experience. It's a great way to get out of a comfort zone and take a risk. Whether riding solo or going with friends or family, jet skiing will be the highlight of your day at Falls Lake.
Transportable: Our jets skis at Motor Boatin' are stuck at Falls Lake! We love when our renters pick up our jet skis and take to other local lakes where they are meeting friend or family.
Ready to try Motor Boatin's jet skis or jet skiing in Raleigh for the first time? We have a fantastic team ready to help set up your rental and teach you to use our equipment. Contact Motor-Boatin today at 919-800-9716 and let's set up your next rental.