Summertime in Raleigh is hot! With temperatures in the mid to upper 90s, everyone is looking for a way to cool off. Spending a day with a set of rented jet skis is a great way to cool off in Raleigh! However, many people won't rent jet skis or boats during the summer because they think they have to go to Jordan Lake and it is too crowded.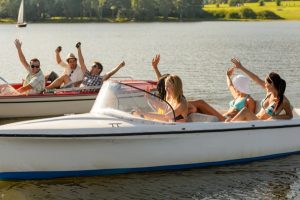 Great news! Motor-Boatin on Falls Lake offers jet ski rentals and pontoon rentals for Falls Lake. Falls Lake is much less populated than Jordan Lake and allows for a relaxing weekend to beat the Raleigh summer heat!
3 things to know before renting jet skis or pontoon boat at Motor Boatin on Falls Lake is:
Many Renting Opportunities. It can get very hot very quickly and it may be too warm to spend the entire day on Falls Lake. No need to worry, we rent for half days, full days, or multiple days at a time.
We Focus on Safety. We rent Yahama's Waverunner's jet skis which are some of the safest jet skis on the market. It is very important to us at Motor-Boatin to protect our patrons but also the general public who will be spending time at Falls Lake.
Delivery Options. If a group of friends are heading to Jordan Lake or Harris Lake, but there are no jet skis left to rent, call us! We allow renters to take our Jet Skis from Falls Lake to any lake in North Carolina.
Does a Saturday with jet skis or pontoon boat on the lake sound great? Contact Motor-Boatin today to reserve a jet ski or set of jet skis for this weekend before it is too late.