It seems the heat of summer has finally left the Triangle and our locals couldn't be more excited! We have fabulous fall seasons here in North Carolina, and the beautiful vistas of Falls Lake are some of the best in Raleigh!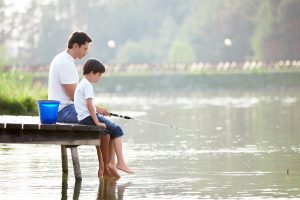 Before the chill of winter sneaks in, our Triangle residents should consider having a weekend getaway at one of the spacious campsites along Falls Lake. There are plenty of activities to enjoy, even if the water is a bit cooler.
4 fun activities that our lake lovers suggest to squeeze in during your next weekend at Falls Lake are:
Go Camping. First and foremost, pack up the bags and grab some food to enjoy the weather and camp out next to the water! There are more than 300 campsites along the access areas of the Falls Lake recreational areas. Do a bit of research on which access areas are better for certain activities. Some are reserved for non-gasoline powered boats, while others have better access to different hiking trails.
Go Fishing. Give us a call to reserve a spacious yet sleek fishing boat to enjoy a lazy afternoon on the water. The fish are always biting and local anglers have lots of stories to tell about their favorite catch.
Grill a Nice Meal. Before the sweet summer corn is out of season, grab a few ears and bring the hot dogs and burgers to enjoy a filling and delicious meal while surrounded by the autumn leaves. There are a number of grills and pits available at Falls Lake, so no need to bring your own.
Boating on the Water. Of course renting a pontoon boat or a jet ski are still viable options to enjoy Falls Lake. We have plenty of styles and sizes to suit each individual or group need, so feel free to inquire about what's available.
Autumn is a lovely affair at Falls Lake, and our locals should not miss out on the promise of spectacular vistas that are to come. Contact us at Motor Boatin' to get more ideas to plan your weekend at Falls Lake!