There's nothing better than spending a sunny day boating on the open waters of Falls Lake in the Triangle area. Here at Motor Boatin', we supply jet skis, fishing boats, and pontoon boats to the local water lovers at affordable prices and with flexible rental options.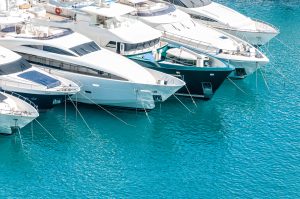 Some may think renting a boat for a few hours or days at a time is inefficient. Why not just purchase a boat outright and keep it docked and ready for use at any time? Well, owning a boat requires more than a one-time payment. There's a lot of upkeep and maintenance that people may not consider right away.
Owning a boat is tough work, and the following examples will help emphasize that renting a boat is the better option overall:
Total Financial Expenses. To begin with, boats are already expensive, especially if they're new. In addition, there are many other expenses that come along with the purchase, including insurance, taxes, and docking fees. For used boats, it's also advised to have a comprehensive survey conducted to ensure the boat is in good condition. The prices for surveying vary, usually priced per-foot of the boat's length. These may seem like basic expenses for boat ownership, but they do add up and it can take a toll if buyers aren't prepared.
Constant Upkeep. Unless buyers have the space to store the boat on land in a garage or storage unit, they'll likely be kept at a marina. If so, there's a lot to consider including which type of water the boat will rest in, fresh or salt, as each type has its own guidelines for proper maintenance. Much like cars, boats need routine maintenance conducted to ensure they're good for sailing, so factor in regular engine tune-ups, oil changes, flushing the motor, etc. For busy individuals and families, the general upkeep of the boat may not be worth the time and money it will require.
Our Triangle residents can enjoy all the benefits of boating without the hassle and demands of ownership by renting from us at Motor Boatin'! We service the Falls Lake and surrounding areas and have plenty of options to choose from. Contact us today to learn more about our jet ski, fishing and pontoon boat rentals!