Nothing feels more like summer than speeding along serene water in a pontoon! Motor-Boatin LLC offers quality pontoon rentals so you can get out on the water with family and friends as often as you like – without the expense and stress of owning and maintaining a boat. Conveniently located in Wake Forest, just off Hwy 50 at Falls Lake and just minutes from Jordan Lake, Harris Lake and Kerr Lake, an exciting day on the water is much closer than you might think. Contact us today at 1-919-800-9716 to reserve a pontoon boat rental and prepare for a day of fun.
CALL FOR SAME DAY AVAILABILITY AND HALF DAY JET SKIS
Schedules change at the last minute.  If you would like to be on a next call list, please call/text/email letting us know what day and which boat or ski.
Rental Rates for Ski Boats
1 Day Ski Boat: $500
Multiple Days-Please call to discuss
tes for 30′ Pontoon Boats
1 Day 30′ Pontoon: $500
Multiple Days-Please call to discuss
Rental Rates for 20′-22′ Pontoon Boats
1 Day: $400
Multiple Days-Please call to discuss
**Born in '88 or since-Do you have a Boat Safety Card?  Please see Rental Policy for free online course**
Rental Insurance is $50/day.  Without it you are 100% UNINSURED during rental.  If you have a Watercraft rider on your homeowners, please check prior to rental with your insurance agent.  You may be covered in a rental.
If you tow the equipment, this rental insurance is required.
ONLINE BOAT RENTAL PARTICIPANT AGREEMENT
Please call/text for availability until Calendar is up
Deliver to Hwy 50 Boat Ramp, 13900 Creedmoor Rd, Wake Forest, NC 27587.
We do not take reservations for half day rentals at this time.  Only if boats are available, same day rentals can be accommodated.
A refundable damage deposit is required on a credit card.
By the NC state law, if you were born in 1988 or since, it is required you have a Boater Safety Card.  A link is on our Rental Page.
You are responsible for the fuel that you consume during your rental period.
Fuel usage is approximately 3-4 gal/hour at full throttle. You begin your rental with a full tank.
At the end of your rental period, we will refill the fuel and charge $4.00/Gallon used.  We offer this to you so you can ride the entire time and not be required to fill up during your rental time.
Without speaking to us first, we cannot guarantee which boat you will be given.
Delivery and Return times are set prior to rental date-Deliver between 8am-11am and Return between 5pm-6pm.  We can work with your schedule for special occasions that are arranged prior to rental date.  Late arrival and late returns will incur fees.  Equipment is not to be left unattended.  Late returns without 1 hour notice will need to wait to be fit in the pick up schedule and be charged.
Rental fee and taxes are paid at the time of reservation and damage deposit is placed on the card on file Friday before rental date.
Pontoon Boats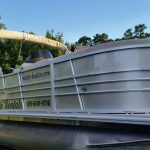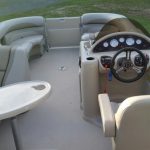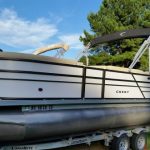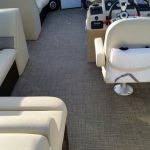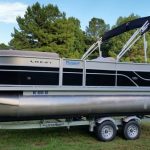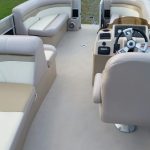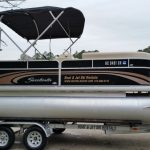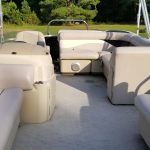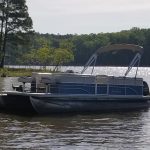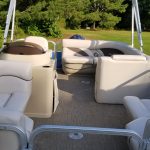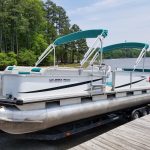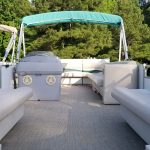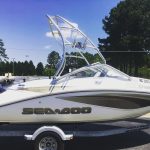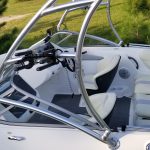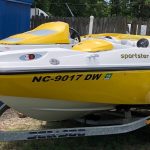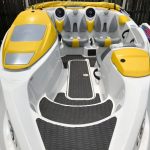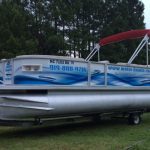 We have the newest fleet of boats in the area.
You are responsible for the fuel that you consume during your rental period. You begin your rental with a full tank. At the end of your rental period, we will refill the fuel and charge $4.00/Gallon used.
In order to rent a boat from Motor-Boatin LLC in Wake Forest, NC, renters must complete an Online Boat Rental Participant Agreement.  Prior to the boat leaving the dock, we provide all passengers with a operational and safety lesson – so even if this is your first time operating or being on a boat, you will feel confident and be safe on the water.
We deliver to Falls Lake, Kerr Lake, Jordan Lake and Harris Lakes! Make your reservation and we will have it ready to go in the water upon your arrival! Delivery of our rental boats to Lakes other than Falls Lake are an additional $200.00.  If your group has the ability to tow, you are allowed and welcome to pull the equipment yourself and save the $200 fee.  If you tow the equipment yourself, rental insurance of $50 per day is required.  Keep in mind all of our rentals are available for multiple days, so plan a long vacation on the water today!
View complete rental policies.
Pontoon boat rentals are large, powerful boats that hold 10 or more people and were truly built to entertain. Pack up your cooler, swimsuit, snacks and sunscreen and board our rental pontoon for an unforgettable aquatic party in the sun. Our pontoon boats come equipped with a quality FM/AM player with Bluetooth capability so that you don't have to leave your favorite tunes on shore, as well as a large bimini top that offers a place to relax in the shade.
Nearby NC Lakes
Just minutes from Durham, Raleigh and several other large cities in North Carolina, we are also conveniently located close to Harris, Jordan and Kerr Lake. These lakes are ideal when you rent pontoon boats because they are spacious, beautiful and equipped with several other fun features like campgrounds for an RV or Motor-home, beaches and hiking trails. Visit one today and you will find that Falls Lake, Jordan, Harris and Kerr Lake are the perfect setting for your next pontoon boat rental adventure.
Contact Motor-Boatin LLC today at 1-919-800-9716 to reserve Jet Skis, Pontoon rentals or Fishing boat rentals for your upcoming getaway. We look forward to serving you.