Need to keep the kids occupied while you're at the lake? No worries, we have been doing this for quite a while so we have some great idea for you!
5 greats ideas to keep kids entertained and excited while at Falls Lake are:
Water Man, Catch Me If You Can: A designated player will be the "Waterman" and that player's responsibility is to tag as many players as they can. If tagged you lose that round and must sit out until the round is over. The last player standing is the winner and becomes the new "Waterman".
Gather It: This is where bath toys come in handy, a non-player is going to throw the objects/toys in the water and hide them. Then the players are going to go collect the toys and the player who collects the most wins!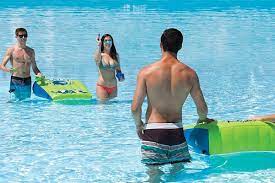 Floating Cornhole: Everybody loves a good old classic game of cornhole so why not get a floating version! Cornhole has simple rules that are easily changeable and fit for mostly all ages. Stay cool at the lake this summer by playing this fun water game!
Toe Diving: A non-player will throw objects into shallow water and the participants will use their toes to collect and retrieve those objects and bring them back to the surface. The player that is able to collect the most objects wins!
Tubing: Get towed by a boat and float up and down the river in an inflatable tube. This recreation activity adds thrill to the lake and the kids will love it!
Don't have a boat? No worries.
Motor-Boatin LLC has you covered! Whether you like lounging around the lake on a pontoon rental, fishing boat rental or enjoying one of our Yamaha Waverunner VX Deluxe or Sea-Doo Wake Editions Jet Skis, Motor-Boatin LLC has all your needs covered. Our quality rentals are the perfect ingredients for an afternoon of fun, recreation and relaxation.
Check boat availability and learn more here:https://motor-boatin.com