In North Carolina, when someone refers to camping, people think of camping in the mountains or on the beach. But, there is no need to go that far! Falls Lake offers great camping grounds as well as activities that are great for large groups.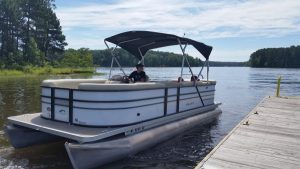 When Motor Boatin suggests camping at Falls Lake, many people are worried that there won't be much to do like there would be at the beach or in the mountains. But, there is no worry about that.
A few recreation activities offered at Falls Lake that are regularly only in the mountain or beach camp sites are:
Jet Skiing. With Motor Boatin located on Falls Lake, there is very easy access to jet skis. There are even the rental options available at the beach such as jet skis by the hour, half day, or entire day. Jet skiing is one of the most desired activities when camping at the beach and now, there is no need to go all the way to the Carolina coast.
Boat Rental. Boat rental in Raleigh, NC? Sounds crazy! Nope, Motor Boatin can rent a boat for the day to enjoy out on Falls Lake. We offer a variety of boats that can be great for any group camping out at Falls Lake.
Trail Hiking. Need a break from the water? Get out and hike the beautiful trails around Falls Lake just like trail hiking in the North Carolina mountains.
When camping with a large group, it can be hard to please everyone. Even further, many people will like camping in the mountains or camping at the beach. Falls Lake in Raleigh offers a great solution to camping and enjoying the water and land out at Falls Lake. For more information on Falls Lake or to book a day on the water, contact Motor Boatin now.